Tradition with Community of Hope
We thank all of our generous donors for keeping the holiday tradition alive and helping us expand and change with the times. Because of you, we were able to give 2 gifts bags to each of the 43 adult residents at The Bridge and donate gifts to 15 families and all of the parents at The Triumph.  Both are housing programs with Community of Hope, a partner for over 30 years. CoH is dedicated to ending homelessness in DC.  We also donated gifts to refugees and immigrants through Lutheran Social Services, and gave gifts cards to families who have been previously homeless and are living on the edge.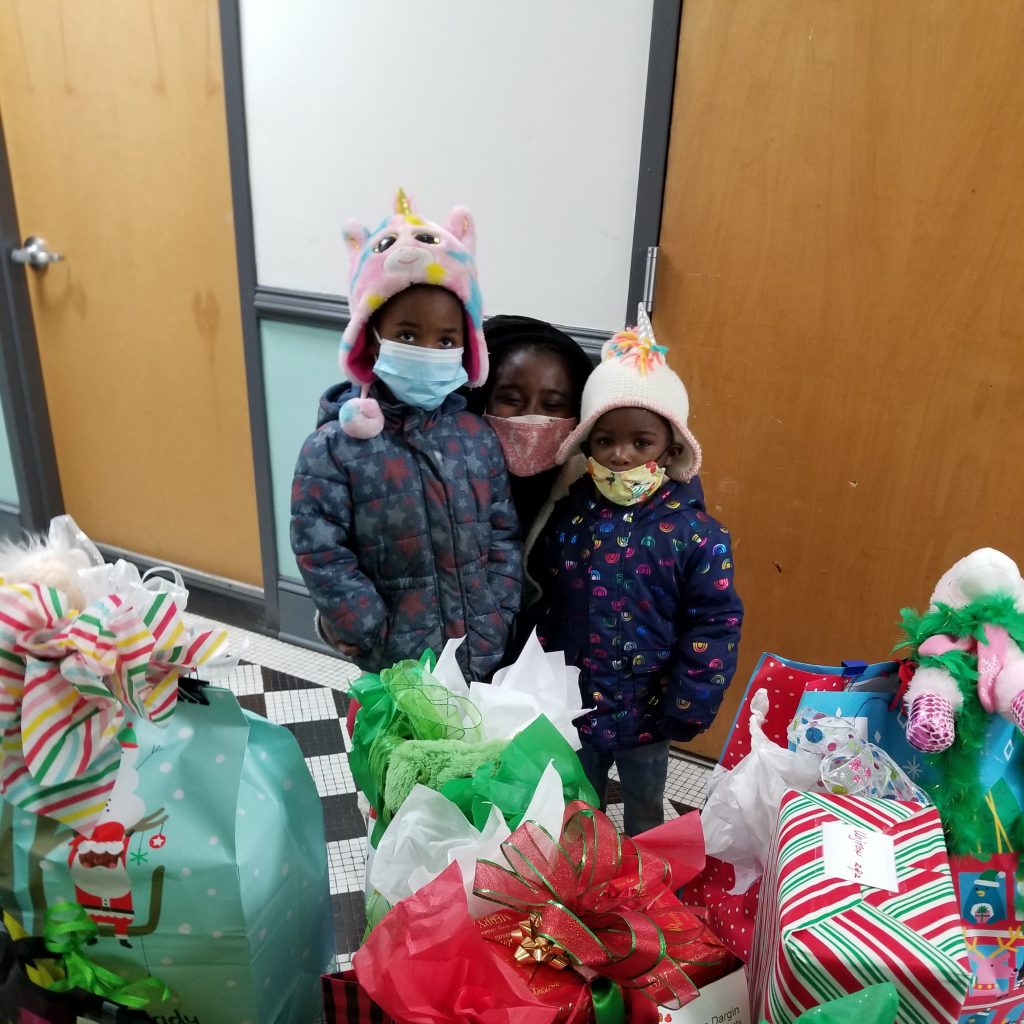 Purpose of Event
The purpose of this event is to nurture the spirit of goodness that lives in all people by providing an opportunity for homeless families to express their caring to elderly residents in a nursing home. In years past, the children visited the residents, caroled in the hallways, and handed out cards to staff and residents. Families from Community of Hope, which provides transitional housing for homeless families, gave of themselves. After caroling, the families were taken in a large rented bus to a private home where awaiting them was a delicious lunch. After games, sharing, and a story every child and mother left with a bag full of useful, educational, and fun gifts. This tradition endured for three decades.
Due to the pandemic, we have amended the tradition and will continue to refine it going forward. When the nursing home once again opens to large groups like ours, we will rent a bus and take the families to sing show tunes and other fun songs. This means we are extending the tradition to visit and sing with the elderly beyond the holidays. The families at CoH, however, will still give to the seniors in the nursing home. Families living at the Triumph will make beautiful cards for the residents and staff at the Stoddert Baptist Home. The cards will be delivered Christmas week. And we, along with other organizations, will give holiday gifts to the homeless families. We always make sure the parents receive something as well as the children. The Community of Hope staff will distribute our gifts to the families living at Triumph. Our gifts come from Global Harmony Through Personal Excellence's caring donors. In addition, we are giving Gift Cards to previously homeless families, to immigrants, to adults living in shelters, and to others in difficult circumstances. Our donors are keeping alive the holiday tradition of giving and receiving. THANK YOU!
Get Involved
As we gather gifts for families at the Triumph, we are also gathering toiletries, blankets, and puzzle, activity and game books for 43 adults who have moved into the Girard shelter. These individuals have been living on sidewalks and in the elements until recently. If you want to help with this, we can use these items in regular sizes: Dove and Alveeno body wash, toothpaste, tooth brushes, Shea shampoo and conditioner, shaving cream, deodorant for men and women, quality dental floss, mouthwash, lotion for women, disposable razors for men and women, band aids, chapstick, kleenex, toilet paper, Etc. Menstrual products for women are NOT needed. Please deliver or mail your items to 3925 Livingston Street NW, Washington, DC 20015-2921. Mark to the attention of Dodie Brady.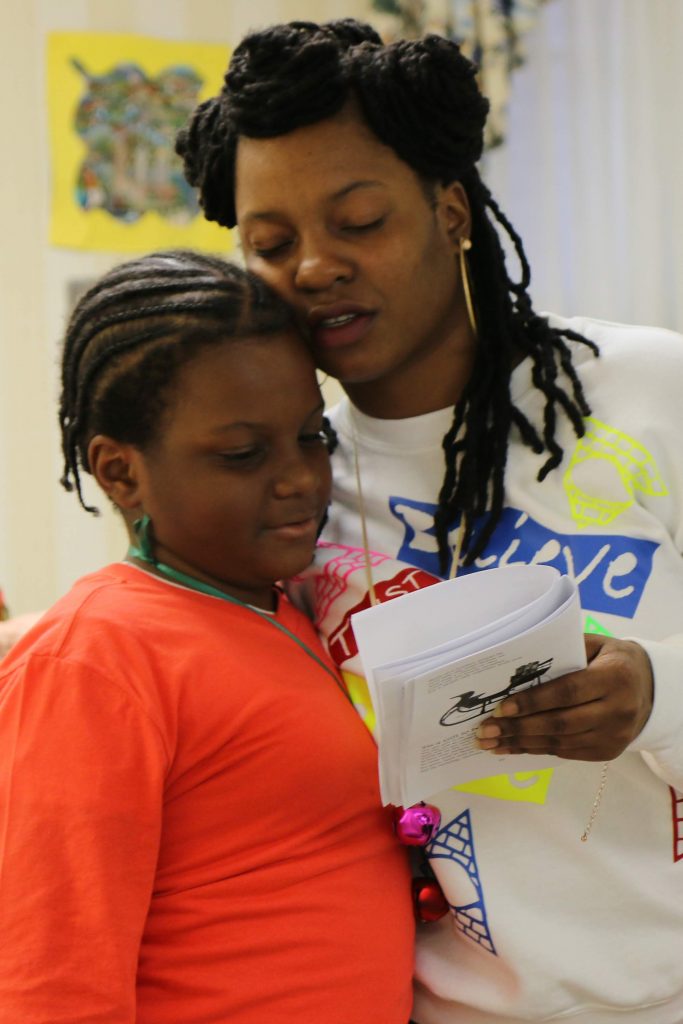 Gift Card Suggestions
Gift Cards: We are gathering Gift Cards for families and individuals in need. We prefer Visa, Target, or Giant cards ranging from $25 up to $100. Gift Cards allow the moms and older children to buy the items they need in the style and color they want. We are generous with gift cards, and the gift cards are really appreciated by the recipients. Please call Dodie Brady for the latest needs to be filled at (202) 244-1682. Below are items we can use now.
---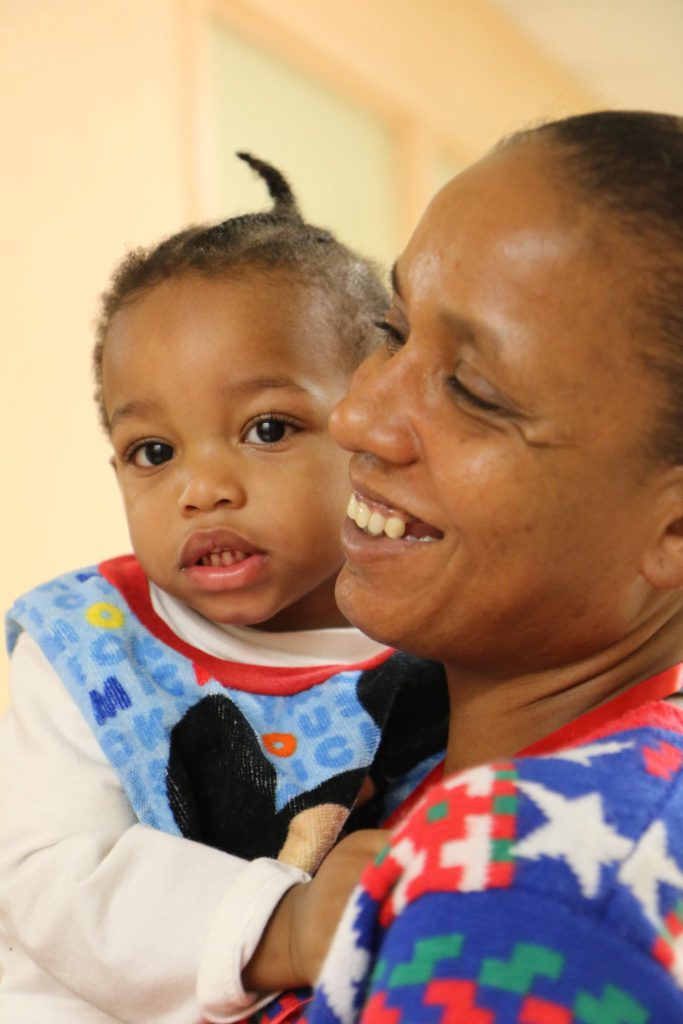 GRATITUDE
Thank you so much for your kindness and taking the time to buy the children and their parents useful and thoughtful gifts. We very much appreciate your support. These are perilous times for many of these families. Your give can bring them relief and hope. We tell families the gifts come from caring people who are rooting for their well-being. If we were to have a miraculous overflow of gifts, we donate them to other families in need, and there are many families in need around our city.
---
How else can you participate?
We accept financial contributions all year long. Our current projects include: our caroling tradition of three decades; sponsoring the 35th essay contest in Spring 2023 for DCPS students; showcasing past essayists; partnering with other organizations to bridge communities and address the needs of homeless and low-income families. We have been accepted by a publishing company to put together a book and publish the essays of students over 33 years. We gather books and toiletries all year long now. We are exploring legacy options and laying groundwork for an international essay contest and other activities. Our 2020 990EZ and 2021 EZ should be posted soon on the IRS website. We can use administrative and social media support.